Tungsten Size Comparison
Our jigs sizes run a little bigger due to the amount of layers involved in the glow process.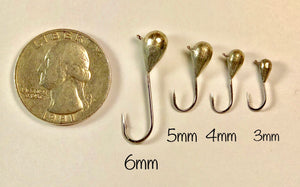 The struggle to find the eyelet is real. Brantner jigs arrive at your door with the eyelets cleaned and ready to use, with a groove to guide your line through the eyelet!
Brantner Jigs are like no other!
Brantner Jigs is a Wisconsin based family operated company. Our jigs are hand glowed and painted in the USA. With our glow process, we guarantee our jigs have the brightest, longest lasting glow in the market!